More than 90,000 hours of your life will be spent working — why not work for the best.
UltraCare offers health care professionals like you more than a job — we give you the opportunity to control your own future.

In addition to a variety of employment opportunities we promote professional growth and encourage
advancement, whether you choose a clinical or leadership path.
We are looking for experienced health professionals and new graduates: physician anesthesiologists, pharmacists, CRNA/APN-As, and RNs to join our UltraCare team.
Why should you join the UltraCare team?
Job and career opportunities in multiple states.
Commitment to individuals practicing to the full level and scope of their licensure and training.
Variety of clinical settings (office-based, surgical center, rehab centers, hospitals, etc.)
Customized schedule/times and settings to meet your professional and personal needs
Leadership opportunities
Advancement opportunities within UltraCare
Specialized Teams: COVID-19 Vaccine Team and COVID-19 Response Team
Additional benefits:
Extremely Competitive pay rates
Generous vacation and PTO
Nights/Weekends off (for some positions)
401K, health and dental plans
Malpractice Insurance
Employment travel/logistics assistance
UltraCare offers full and part-time positions: W-2 Employment and 1099 Independent Contractor employment.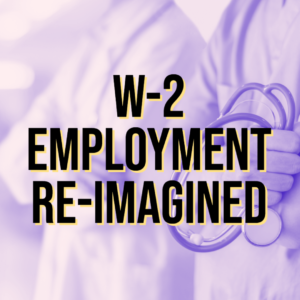 Whether you are looking for full or part-time work our new W-2 package includes the flexibility of 1099 with the added benefits of a highly competitive W-2 job.
Click image to view/download document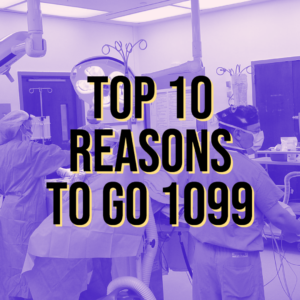 If work/life balance makes the 1099 option attractive to you we have a package that will help you achieve not only your financial goals but also enable you to access health insurance options for yourself and your family.
Click image to view/download document
ULTRACARE'S COVID-19 VACCINE TEAM MAKES A DIFFERENCE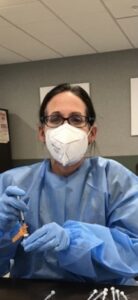 "My experience was nothing but positive working with the Covid-19 Response Team," said Sharon P. 
"I had wanted to help in the fight against Covid since the start of the Pandemic and would watch the news knowing there had to be a position that would fit my skills. I traveled to New York and Indiana at which both facilities worked with amazing pharmacists and fellow nurses in administering the vaccine to many seniors in need. The team of pharmacists and nurses were all professional, enthusiastic and worked hard to accomplish the job. I say this has been the greatest experience of my nursing career knowing that we were able to help in one of the greatest public health crises of our time. Thank you again for this opportunity!"
"I put my job and my entire life on hold and jumped to be a part of this team," said Vaccine Team member Johanna B.
"We have been able to go to so many different places. I was in 123 Cities in 4 weeks, so I have gotten my share of exploring the world and helping to save the world during this pandemic by giving the vaccine. As for UltraCare I am so grateful. They have been there every step of the way, whether 1 a.m. or 7 a.m. they were able to help us and definitely were the backbone to us being able to do what we did. We saved lives, if you will in a different type of way. I just think it's something we will never forget, and we could never have done it without UltraCare."